Born April 2018, New Forest Pony Gelding
Sire:  Wicked Courtjester/Oleander
Dam:  Forrest Folly/Forrest Flame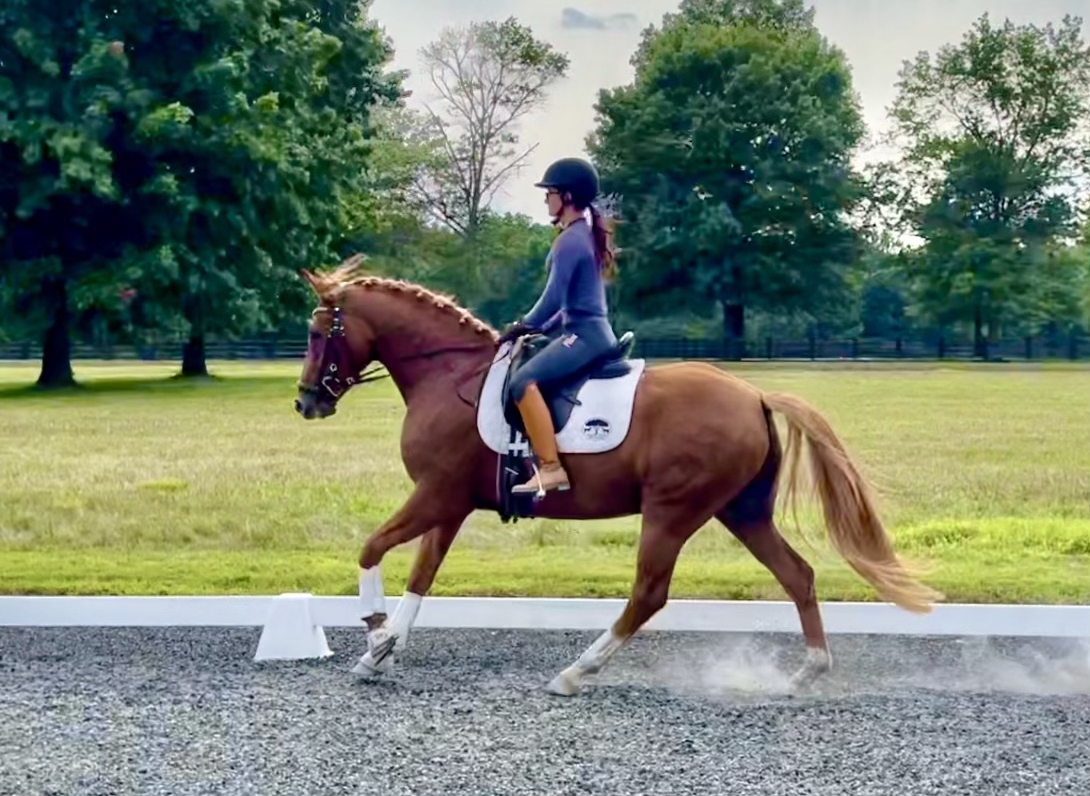 Wrockstar was started under saddle early this year as a 3-year-old here at the farm, and in May he moved to Yellow Wood Dressage to continue his education.  He is doing well with his walk, trot, and canter and transitions.  He is becoming more confident and focused in a large and busy barn and with his new surroundings.  I think it's fair to say he has won the hearts of many there.

Wrockstar recently took part in a clinic given by Kathy Connelly who had the nicest things to say about him and was very positive about his future in dressage.

Wrockstar is an athletic type with the gaits for FEI dressage.  He is nicely forward, very willing and eager to work, and also has a great mind.  He is one of only a small number of purebred New Forest Ponies in the USA.
He is developing beautifully and will make a fun large pony/small horse for an ambitious small adult rider.

His sire is Wicked Courtjester, who has been a superb sire for us and has produced fabulous offspring with many different breeds and types of mares for all disciples, some competing at GP dressage and 3* Eventing.

His dam, Forrest Folly, was given Premium Foal and Premium Mare Award status.  After weaning, she was put back under saddle and shown in training and first level dressage.  She is in foal for 2022.

Wrockstar's grandsire is 3* stallion Forrest Flame who competed through to Fourth Level Dressage and who could also jump anything in front of him.  The grandam is our incredible broodmare Hoppenhoff's Silvia, who has produced nine offspring for us - four by Forrest Flame who received Premium Awards, a licensed breeding stallion in Webster, Premium Mare Award and FEI dressage pony Wicked Games (both sired by Wicked Courtjester), and super eventing pony Forrest Nymph.

Wrockstar is currently in full training at Yellow Wood Dressage in Riversedge, MD.  He will be returning home to us in the fall, where he will most likely have the winter off before starting up again in early spring.

When last measured, Wrockstar was 14.3 1/2 hh - he may top out at 15 hh.   He is currently barefoot.

Wrockstar has lifetime member memberships with USDF and USEF and is microchipped.


If interested, please contact us for more up-to-date information about Wrockstar, his training and video footage.

SOLD.  Congratulations to Kathy Scheider.