Born May 5, 2019, KWPN Reg A Filly
Sire:  Gaudi SSF/Totilas/De Niro
Dam: Sioux/Zeiolet/Goodtimes
This filly carries some of the finest dressage bloodlines available in sport horse breeding today. Totilas, De Niro, Gribaldi,  Donnerhall and Romancier. You just can't get any better.
The sire Gaudi, standing at 16.2 hands and is a son of Totilas out of a Deniro mare who is also the dam of Breton Woods and Chagall . The dam is a prolific mare in Holland and as any good breeder knows, you can't underestimate the importance of a strong dam line. Totilas needs no introduction.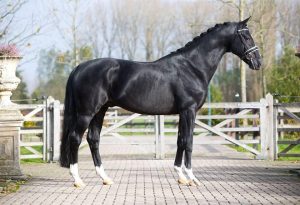 This  foal is bred for FEI dressage you need only read the pedigree table below to see some of the great performance horses listed.
GAUDI is the first and only Totilas offspring standing in the USA.  His dam is the elite preferent prestation mare Annabel, by De Niro.  Gaudi has an exceptional pedigree. His dam also produced the KWPN licensed stallions Bretton Woods and Chagall D&R, and from these same dam line comes the licensed stallion Four Legends KS. Annabel leads the KWPN index for dressage mares. She has produced top sport and keuring horses.
Sioux is a Ster KWPN mare with a provisional keur status.    She has produced a number of outstanding foals for us by a variety of stallions.   She is a powerful mare with outstanding gaits and has been in our breeding program, producing incredable foals for several years.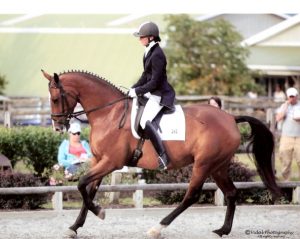 Totilas has changed the world of dressage sport. This stallion set record after record in quick-fire succession. He has broken the world record three times – in 2009 at the European Championship with 90.75 % in the freestyle class, in London with 92.3 % and at the CHIO Aachen 2010 with 86.45% in the Grand Prix Special, where he was awarded the perfect score of 10.0 a total of 28 times. Within the space of only two years, this exceptional stallion has won all the titles there are to win. He won two individual World Championship titles in Kentucky, he was European Champion at Windsor, World Cup winner in 2010 and he won the Dutch Championship twice. He also won team gold medals at the European Championship as well as the World Championship.
No other dressage horse has ever electrified spectators in the way that Totilas did.
Totilas' sire, Gribaldi, also competed successfully at international level with Edward Gal. He was Trakehner champion stallion and Trakehner stallion of the Year in 2008.
Gribaldi has consistently produced top-class horses such as World Cup winner IPS Painted Black/Anky van Grunsven, Grand Prix winner Sisther de Jeu/Edward Gal, Peter Pan/Beatriz Ferrer-Salat, BMC Pasternak/Coby van Baalen and Zardin Firfod/Patrick Kittel. Eight-times advanced dressage class winner Girasol, ridden by Nadine Capellmann, is one of the biggest young Grand Prix hopefuls and approved stallion Unee came second in the Nuremberg Burgpokal in 2010.
The legendary KWPN stallion Zeoliet has passed away at the age of 20. Residing at Shooting Star Farm in Spofford, NH, USA, Zeoliet was by Ramiro out of the Keur preferent mare Sargab (Abgar xx x Nimrod).
The stallion was bred by Eykenboom who still owned him together with the Dutch stallion station Nijhof in Geesteren, The Netherlands.
In 1984 Zeoliet was amongst the best stallion in the stallion performance test and he passed on his quality to his descendants. He received 9,2 for his dressage test and 9 and 9,5 for the jumping parts. Zeoliet competed in the Stallion Competition Circuit under Henk van den Broek and performed 4th level dressage with Roger Schulkens.
Zeoliet has two approved sons from his first breeding season, Elcaro and Eusebio. The dark bay was especially gifted as show jumping sire. He has sired several Grand Prix show jumpers like Escudo, Supercruise, Jumbo and Elando. Nevertheless, he also produced a large lot of top level dressage horses of which Dotato, Neoliet, Leoliet and Favoriet are renowned horses. The last two years of his life, Zeoliet was up for stud in the U.S. at Scot Tolman's Shooting Star Farm. There is still frozen semen available in the Netherlands.

SOLD.  Congratulations to Catherine Marcks.
To Request More Information or Schedule A Viewing
Please call us directly at 717-871-0100 or