Born April 2016
Sire: Forrest Flame
Dam: Jacodi's Bo's Bonnie
***UPDATE:  FORREST FERN- Premium Foal Award and Site Champion Filly at Hilltop Farm!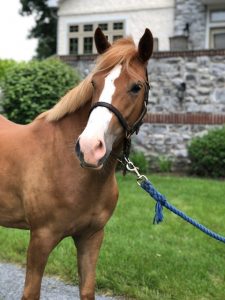 What can we say about this amazing filly Forrest Fern. Its been a long time since we have had a foal so connected to people as she is. We are all enjoying her immensely. From the moment she was born she has been the easiest foal, close to perfectly behaved as you will ever get.
Fern is a New Forest Pony filly sired by Forrest Flame- the sire of numerous outstanding offspring who excel in all disciplines. He has competed with both his trainer and with his young rider through to Fourth Level dressage. (Read more about Forrest Flame here.)
Jacodi's Bo's Bonnie, Forrest Fern's dam, has produced outstanding offspring with amazing temperaments suitable for both adults and children; dam of Premium colt Frodo, Premium filly Forrest Sable, Forrest Flair, Approved & licensed stallion Wasabi, Premium filly Wicked Creme Delight, Premium mare What Evah and the adorable Wishbone. This will be a full sibling to Frodo, Forrest Sable and Forrest Flair.
We are on the fence as to whether Fern should be retained by Trevelyan for us to bred and eventually start under saddle and campaign ourselves. For this reason, only excellent approved show homes would be given consideration.
Fern is expected to mature in the 14.2 hd range and remain pony size and will be attending her breed inspections in August.
To Request More Information or Schedule A Viewing
Please call us directly at 717-871-0100 or