Dam: Nikki
2002 New Forest Pony x Warmblood Gelding, 14.2 hands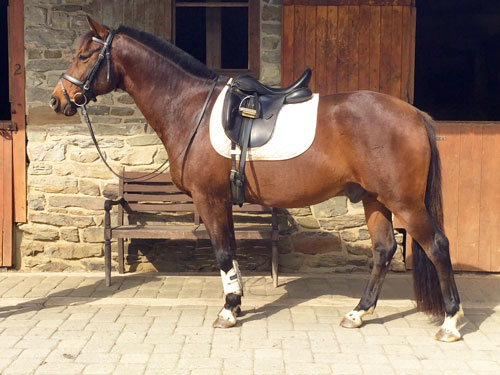 Trickster came back to us early this year (2016) and this summer was started back in training.   He is a fun fun ride! 
 At 14.2 hds he gives the rider a much larger feel under saddle.  He is athletic, has suspension, is elastic and is a farm favorite.
He had been used mostly for trail riding and he is now being re introduced to arena work where we are working on balance and contact.  He is very willing and a fast learner.
His jumping skills are very impressive and this is where he excels. He is a natural and can easily figure out distances and really, if you point him at a jump he will take you over.
Trickster is looking for a forever home. He is an easy keeper, lives outside 24/7 with run in shed, is bare foot and has much to give to a new owner.
Price:  $7,500