Lesley Feakins, Owner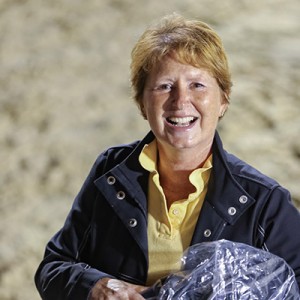 Lesley Feakins, owner and operator of Trevelyan Farm, moved to the USA with her husband and family in 1989 from Southampton, UK, where her beloved New Forest Ponies roam in the wild. She has been involved with horses from a very early age, and as a child was fortunate to spend her time riding in the New Forest in Hampshire. Her background includes competing in horse trials, stadium jumping, and in dressage.
Lesley started her breeding program, which focuses on top-quality warmbloods and sport ponies, in 1999. She carefully selects her brood stock based on exceptional movement, sound conformation, and incredible temperament- all necessary to make an outstanding competitor and a lifetime equine partner. Trevelyan Farm is recognized for breeding and training some of the best sport ponies in America- with a focus on the New Forest breed.
Although Trevelyan Farm mostly focuses on dressage, our horses and ponies are competing and excelling in all disciplines.Over the years, we are consistently awarded Premium Foal awards, Champion High Score Foal Awards, Premium Mare Awards, and overall wins at the prestigious Dressage at Devon as well as numerous breeding registry shows. Most recently, in 2014 we took the GIAG/USDF Breeders Champion Series with home bred Grand Champion Filly, Glamour Girl. In addition, Forrest Nymph (Forrest Flame) has gained well-deserved attention as a 2** Intermediate eventing pony.
Tiffany Bragdell, Bronze Medalist & Certified Instructor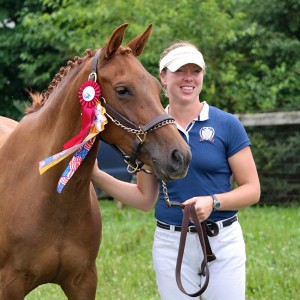 In 2011, Tiffany began training at Trevelyan Farm riding Trevelyan-owned horses and ponies as well as client-owned horses. Most of the horses and ponies are prepared and trained for sales, breed inspections, and shows. Tiffany currently trains with Catherine Haddad-Staller, Morten Thomsen, as well as her husband, Michael Bragdell, Director of Training at Hilltop Farm. She is a USDF Bronze Medalist & USDF Certified Instructor through second level.
Tiffany's early riding experiences include both Pony Club and competing in the hunter/jumper circuit. While she always had basic dressage lessons growing up, it was not until high school when she became more serious with the discipline. She began taking lessons during monthly clinics with Rosalind Kinstler, who served several years as Region 2's chef d'equipe and is the USDF Youth Coordinator.
From 1999-2001, Tiffany was a working student for Roz, spending summers training in Michigan and winters in Florida. During that time she developed her former jumper to PSG/I-1 and also had the opportunity to school other horses in Roz's training program. This was a valuable learning experience that helped solidify the training process. When Tiffany returned to her home in Kansas, she took in horses for training and began teaching lessons.
From 2004-2007, she was the young horse trainer for Rolling Stone Farm in PA. During that time, she prepared numerous mares for breed inspections and performance tests with many achieving Elite Mare Candidate status. A highlight at RSF was successfully presenting stallions, including Shakespeare RSF, for the GOV and Hanoverian licensing. She also competed the young sales horses at the lower level dressage tests, as well as in material classes at Dressage at Devon, giving them positive show experiences at the start of their careers. During the time at Rolling Stone Farm, she worked primarily with Scott Hassler but also rode in clinics with Jim Koford.
Tiffany has started and trained several of her own horses through 4th Level. Chanson, an ISR/OLD gelding competed through 4th level and highlights with him include a 6th place finish at Dressage at Devon's FEI 5 Year Old Test for the North American Breeders Futurity, in 2005. With the same horse, she earned her USDF Bronze medal as well as scores toward the silver medal. With Fhirefighter, a Hanoverian gelding, she successfully competed through 4th Level, qualifying for regional championships. Bellatae successfully completed her mare performance test for the AHS and will begin her show career in 2015.
Other accomplishments include students earning USDF Bronze Medals and awards at regional championships. In 2003, she was invited to the inaugural Young Rider Graduate Program held in Gladstone, N.J. In 2005, she was invited to the first Young Dressage Horse Trainers Symposium. Tiffany is a USDF Bronze Medalist and USDF Certified Instructor through Second Level.